You can leave your dehydrated, salty, and unsatisfying meals at home—today's camping stoves bring a whole new level of gourmet to your car camping and base camping adventures. Unlike for backpacking, there's no need to scour Pinterest for workarounds to compensate for subpar stoves, you can expect consistent fuel output, strong flames, and superior simmer controls from the top offerings. Camping stove sizes vary from small tabletop models to freestanding behemoths for large groups. For first-timers or those desiring some background information, it's worth checking out our comparison table and buying advice while narrowing your search. Below, you'll find our favorite camping stoves for 2019. If you are looking for lighter and smaller options more in-line with backpacking, see our article on the best backpacking stoves.
1. Camp Chef Everest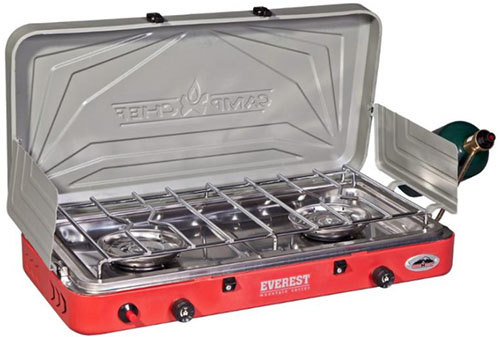 Category: Tabletop
Fuel: Propane
Burners: 2 @ 20,000 BTUs
Weight: 12 lbs.
What we like: Serious performance and great value.
What we don't: No metal latch with the updated model.
Our top choice, the Camp Chef Everest, is not the most powerful camping stove nor is it the most compact. But it offers a ton of cooking power, convenience, and superior reliability to make it a standout in the market. It's an excellent value: at $100, you get 2 large burners that pump out plenty of power (20,000 BTUs each), but also have excellent simmer control for cooking diverse meals. All that power is packed into a reasonably small frame that doesn't weigh you down (12 pounds total). Outside of those that need a larger platform and perhaps a 3rd burner, the Everest is the camp stove to get.
What are the downsides of the Camp Chef Everest? The markings on the heat-control dials are rather vague, but that's only a minor complaint as the Everest is quite adept at cooking evenly at low and medium heat. We are also a little disappointed that Camp Chef replaced the metal latch with 2 plastic locking mechanisms for last year, but it's a small compromise at this price point. For proven performance and ease of use, we can't recommend the Camp Chef Everest enough.
2. Camp Chef Explorer 2-Burner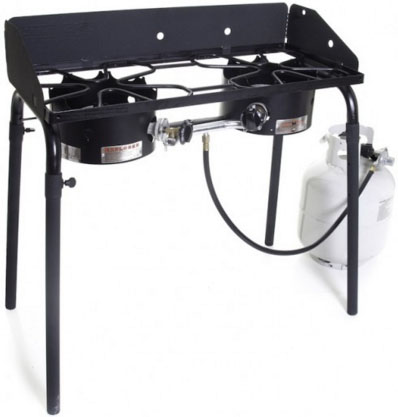 Category: Freestanding
​Fuel: Propane
Burners: 2 @ 30,000 BTUs
Weight: 36 lbs.
What we like: Great value for the output.
What we don't: Pretty barebones on features and bulky.
In terms of burner performance, you'll be hard-pressed to find more quality output for your dollar than the Camp Chef Explorer. 60,000 total BTUs from the two burners are a dream for camp cookouts or even emergency use at home. In keeping the price down, the Explorer is pretty low on features: there is no push-button ignition and the burners are less protected than premium offerings.
The upside of the simplistic design is the Explorer is ripe for the various accessories from Camp Chef, including a barbeque box, griddle or pizza oven. Large dials are easy to use and function in the same way as your cooktop at home, but unfortunately, it's not a whole lot lighter than that home stove: the powder-coated assembly hits the scales at 36 pounds. Leaving behind the legs will trim some of that weight, but the Explorer remains overkill for less serious campers.
3. Coleman Classic Propane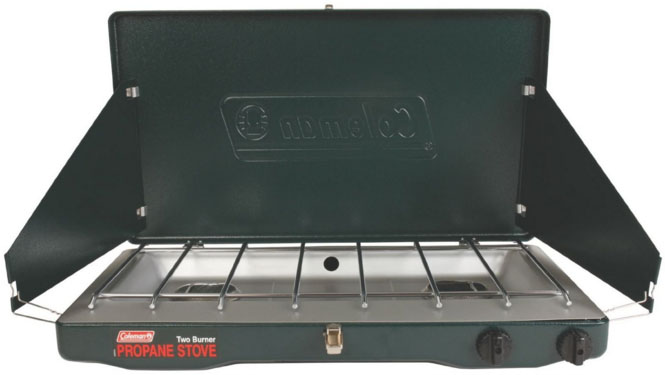 Category: Tabletop
​Fuel: Propane
Burners: 2 @ 10,000 BTUs
Weight: 12 lbs.
What we like: Cheap and gets the job done.
What we don't: Cheaply made, limited flame control.
For years, campers have turned to Coleman stoves for simple, reliable performance. Toward the bottom of their camping stove lineup is the Classic Propane, which is consistently on sale for under $50. In hand, it's clear the Classic is the cheaper option compared to the more expensive Coleman Triton below. Neither are really solid or durable—and at this price point they really can't be—but the Triton is the better investment for the camper that gets out more than a couple of times a year.
Cooking performance reflects the initial impressions: the Classic has slightly less power than the Triton, but lacks in flame performance across the range, despite the Perfect Flow designation. But look at these results with some perspective. At $43, it's still plenty of stove for the casual outdoors person that needs to cook for a few people. It may not have the deft controls of a high-end unit, but remains plenty capable of boiling water, cooking up steaks, or grilling veggies.
4. Stansport Outfitter Series 3-Burner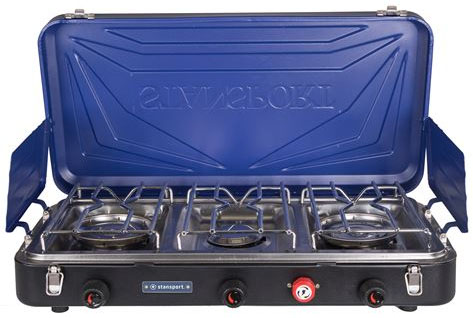 Category: Tabletop
​Fuel: Propane
Burners: 2 @ 25,000 BTUs; 1 @ 10,000 BTUs
Weight: 16 lbs.
What we like: Powerful burners, great price.
What we don't: Overall quality falls short of the Everest.
On paper, the Stansport 3-Burner looks to be a great contender to knock off the Everest at the top of this list. It includes 2 strong burners that put out 25,000 BTUs each and a piezo igniter. Additionally, the Stansport comes with a third 10,000 BTU burner for larger groups. In use, overall performance is also very comparable to the Camp Chef with great flame control that cooks a variety of food types well. And with a price that's consistently around $115 on Amazon, the Stansport is a solid value.
Where it does fall short of the Everest is build quality. The materials don't feel as sturdy and Stansport has a higher prevalence of fit and finish problems (although the Camp Chef doesn't have a perfect track record either). The differences are relatively small, however, and the Stansport's excellent cooking abilities and 3rd burner make it a really strong player in the $100 price range.
5. Camp Chef Tahoe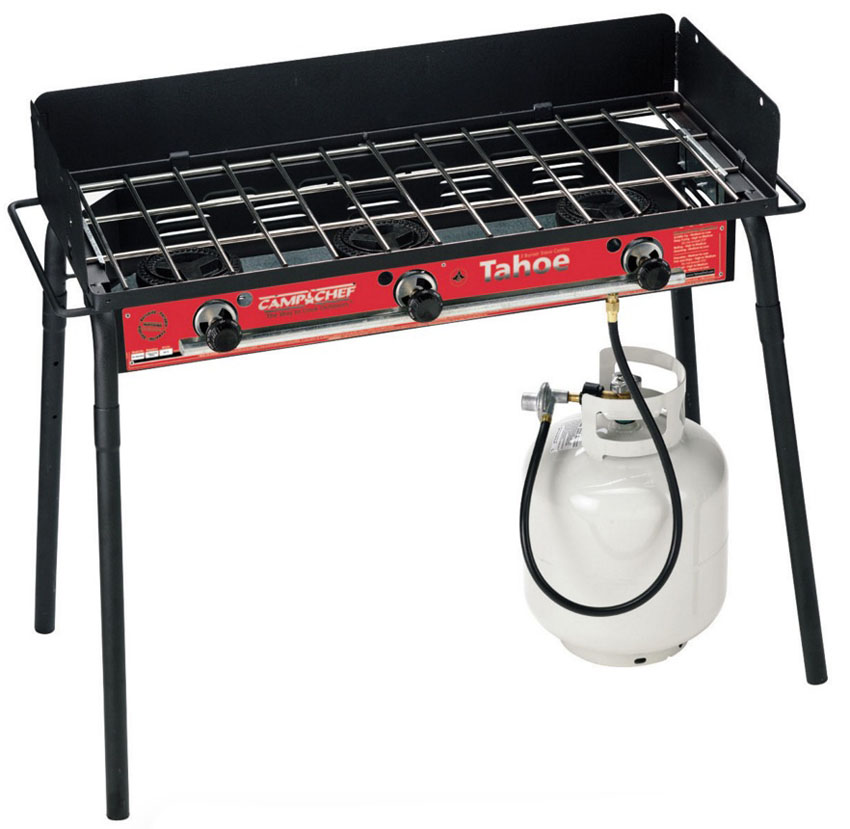 Category: Freestanding
Fuel: Propane
Burners: 3 @ 30,000 BTUs
Weight: 43 lbs.
What we like: Three excellent burners.
What we don't: Really, really heavy and expensive
When cooking for a large group you need serious power, extra cooking real estate, and more burners. The Camp Chef Tahoe features a grand total of three 30,000 BTU burners, which can heat up that 12 cup coffee percolator while cooking eggs and bacon at the same time. Beyond the cooking power, it features a push-button ignition, protected housing for the burners, and side wind rails. Each of the legs is individually adjustable, which is helpful should you be cooking on uneven ground.
What are the shortcomings of the Tahoe? Weighing in at a whopping 43 pounds, it's a pain to lug around if you won't be hosting a large group, and don't forget the 5-gallon propane tank. It's also double the cost of the Everest above. But if you're the consummate camp host or have a large family, the Tahoe deserves your attention.